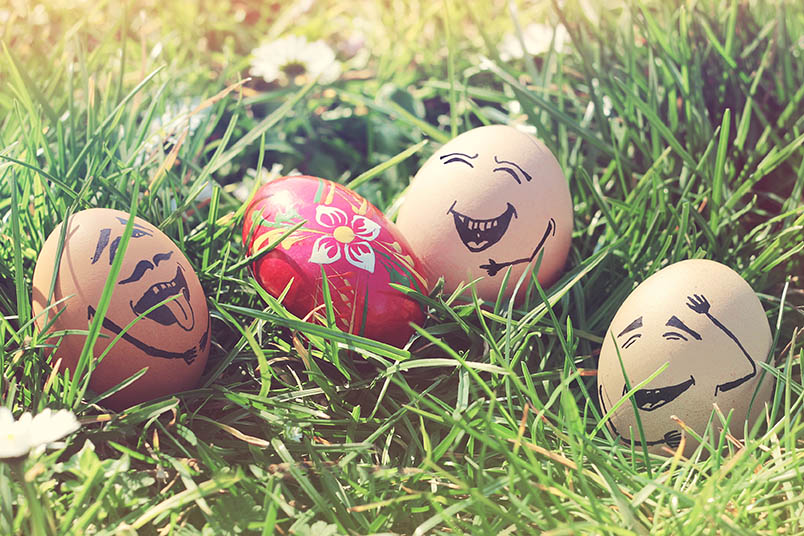 Hoppy Easter, Team!
Last weekend we altered the clocks, this weekend we celebrate chocola-, I mean, Easter!
Joking aside, Easter is upon us, but how much do you actually know about this 4 day weekend?
OK, so Grooms are highly unlikely to get Easter off work – scratch that, ANY equestrian is unlikely to get much Easter down-time this weekend, but that doesn't mean we don't enjoy the occasion, right?!
TGL team-mate Emily has gathered together a general overview of the Easter celebration. Some of these you may know, many of them you may not, but either way, have a quick read. Whatever you're into at Easter, there's bound to be something to tickle your fancy.
And do let us know your Easter traditions, beliefs and questions! We're ALWAYS interested, and I just know Emily will LOVE to help answer your Easter related questions. She's always into that type of thing – make the most of it! 🙂
Working or not, and whatever you're doing, Hoppy Easter folks! Have a good one!
Caroline x
---
10 funny, interesting and simply ridiculous facts about Easter
by Emily Taylor
Easter means many different things to many people, according to a person's origin, faith, creed and (in my case) a love of chocolate (OK, OK! I'm not afraid to admit it!)
Right, let's get the serious bit out of the way first – have you ever wondered why, unlike Christmas, the date for Easter changes every year? Well, the fact is, in Christianity, it is known to be the Sunday that marks the end of the Holy Week, an event that commemorates the death and resurrection of Jesus Christ, and this is what dictates when Easter is each year according to when the full moon falls in relation to other events in the Christian calendar. BUT! Easter is NOT just about Christianity, there is much more to it than that! So, whatever your beliefs, to celebrate here are 10 interesting, funny and simply ridiculous facts about Easter…
 
1. Where did the name "Easter" come from?
The name Easter owes its origin from Eastre, the Anglo-Saxon goddess who symbolizes hare and egg. Eastre is often spelt Eostre, Oestre or Ostara. Ostara is also a northern European name for Astarte, which means "womb", and is another name for Venus, the goddess of love, passion, and creativity.
2. Why do we paint and decorate eggs for Easter?
The art of painting and decorating eggs is known as "Pysanka". The brightly coloured eggs are symbolic of spring flowers and the new beginnings previously mentioned. It is said that King Edward I of England may also have contributed to the tradition of decorating eggs to celebrate Easter. In the 13th century, Edward I ordered 450 eggs to be coloured and decorated with gold-leaf. They were presented as Easter gifts to the rest of the royal household. In Christianity, Easter Eggs are coloured red to symbolise the blood of Jesus. Originally, egg dyes were made out of natural items such as onion peels, tree bark, flower petals, and juices.
3. Why do we give each other eggs at Easter?
The exchange of eggs for Easter dates back to a springtime custom older than Easter itself! Eggs were given as a symbol of fertility and rebirth (remember in point 1 that Eastre/Ostara means "womb"?). This can be traced back to the Egyptians, Persians, Gauls, Greeks and the Romans. In Christianity, for the celebration of "Eastertide", the egg represents the empty tomb of Jesus, from which Jesus was resurrected. In a nutshell, (or in this case, eggshell) we give each other eggs as a symbol of joy, rebirth/new life, and new beginnings – basically all things positive, optimistic and happy.
 4. Why is there an Easter Bunny? What do bunnies have to do with eggs? Or Easter?
The Easter Bunny originates from paintings of the Anglo Saxon Goddess Eastre, who was always depicted holding a hare – take a look back at the picture at point 1! Originally it was the Easter Hare, but this has evolved to be the Easter Bunny, I can only presume because, on the whole, bunnies are a little bit cuter than hares and are more appealing to children?! (Ever found a baby hare, or leveret, in the horses' fields? They are cute!)

5. When were the first chocolate Easter Eggs made?
Chocolate eggs are said to have originated in France and Germany in the early 19th century but here in the UK it was J. S. Fry & Sons Limited who produced the first chocolate egg in 1873. John Cadbury made his first 'French eating Chocolate' in 1842 but it was not until 1875 that the first Cadbury Easter Eggs were made.

 6. What is the biggest Easter Egg in the world?
The tallest chocolate Easter egg ever entered the Guinness Book of Records in 2011. It was made in Italy and was a whopping 10.39 metres in height and 7,200 kg in weight. When it was measured at Le Acciaierie Shopping Centre, in Cortenuova, Italy, it was taller than a giraffe and heavier than an elephant!
I wonder what the surprise inside it was? A hundred-weight of jelly beans? A small car?

7. What is the most expensive Easter Egg ever made?
In 2007, an egg covered in diamonds sold for almost £9 million.

Described as looking like a cross between a Faberge egg and a Damien Hirst skull, the egg is very special because, every hour, a cockerel made of jewels pops up from the top of the egg, flaps its wings four times, nods its head three times and makes a crowing noise!
Sorry friends, but it's a Smarties egg this year. Again.
8. Eggs for Breakfast?
Every child* in the UK receives an average of 8.8 Easter eggs every year – at least double their recommended calorie intake for a whole week.
*loosely speaking (Hey, you're as young as you feel. Plus, Easter is an exception. And Christmas. And birthdays. And….

9. How do you eat yours?
Studies show that 76% of people eat the ears on chocolate bunnies first, 5% eat the feet first and 4% eat the tail first. 0.1% leave it complete because they simply can't dismember an actual animal. Or is that just me?
10. Who doesn't love a Cadbury's Creme Egg?
The world's most popular egg-shaped chocolate is Cadbury's Creme Egg. Workers at Cadbury in Birmingham produce 1.5 million of these every day. This year Cadbury's have announced a Willy Wonka-style hunt for a limited edition, white chocolate Creme Egg, and finding one could net you cash of up to £2,000.
As if we needed an excuse to keep buying them!
We absolutely love this video of Mark Nelson's daughter asking is the Easter Bunny and Jesus best pals! (Buttons are my favourite, too!)