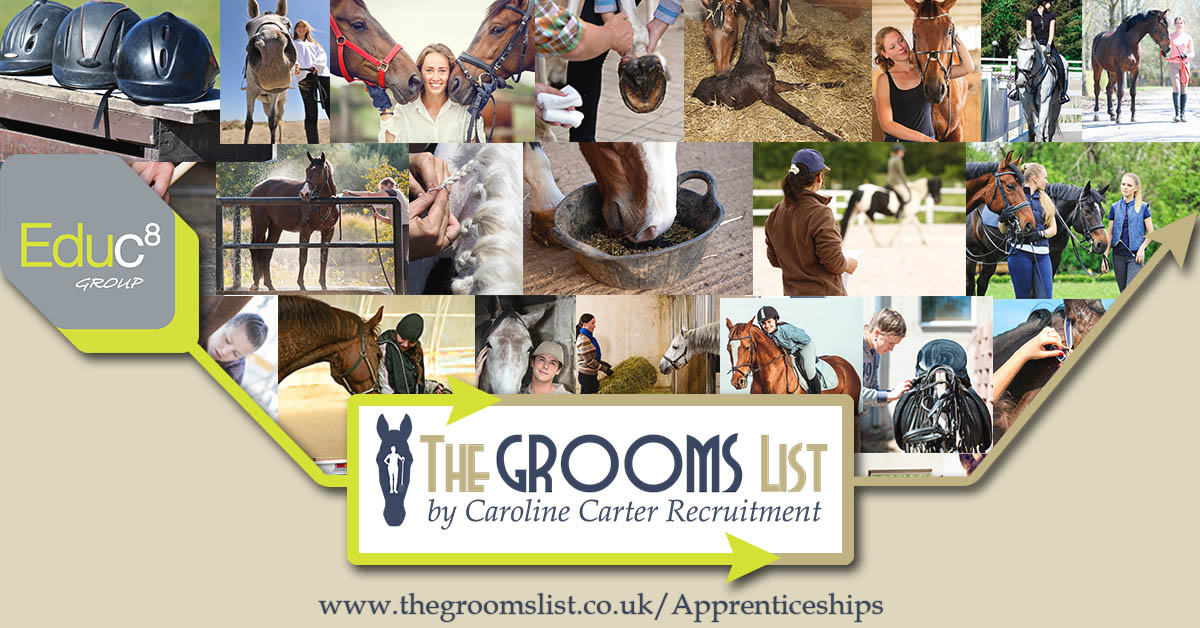 The Grooms List teams up with Educ8 Equine
The Grooms List by Caroline Carter Recruitment Ltd is proud to join forces and partner Educ8 Equine. Blending the two companies efforts, decades of solid recruitment experience and world-class apprenticeship delivery will provide market leading quality in equestrian workplace training.
This trailblazing venture, will ensure we will be able to make a truly positive impact on the future of equestrian employment nationwide. We are looking forward to jointly empowering and inspiring the GROOMS OF THE FUTURE via Apprenticeships, to achieve their true potential across a wide range of equestrian career options. This initiative will play an important role in maintaining our industry for the future and will contribute to reversing just some of the industry trends which worry us all these days!
Grooms of the Future
The equine industry in the UK is both vibrant and valuable, contributing £7bn a year to the economy.
With around 1m horses in the UK, the industry has a gross output of £3.8bn a year and provides full-time employment of about 200,000, many in rural areas.
The opportunities are vast, livery yards, riding schools, racing yards, training yards or harnessed horses all provide an enriched learning environment for apprentices, who will receive planned, structured training and embark on an equine career pathway with formal, nationally recognised qualifications.
Who are Educ8 Equine?
Educ8 Equine is part of the Educ8 Group Ltd. They are not new kids on the block! With over 14 years' experience in delivering high-quality vocational training programmes, Apprenticeships and Traineeships, the Educ8 Group deliver world-class Apprenticeship programmes within the equine industry. These programmes are developed with a focus on providing industry-leading skills and experience. With an in-depth understanding of the equine sector's training and apprenticeship requirements, their highly experienced team of trainers/coaches deliver a comprehensive range of equine apprenticeships for apprentices of all ages and levels of experience, including those already in work or looking for a career change. Educ8 Equine understands that every apprentice and employer is important and have varying requirements. They will work with you to ensure the most appropriate training solutions are delivered.
What does this partnership mean?
This is a unique partnership in the equine industry, providing professional and qualified recruitment advice alongside excellent training for apprentices and support for their employers.
For the Employer:
A proactive, effective and efficient recruitment process (so your vacancy won't just sit there for months unfilled)
Free advice and support throughout the process
Low recruitment costs which affordably get you the Apprentice you need
The right apprentice for the right employer/job
Improved staff retention
Access to hundreds of apprentices on the fastest growing Grooms Apprentice List in the equestrian industry
For the Apprentice:
The best start and a solid foundation for your equine career
Free advice and support throughout the process
Further career opportunities which add value to your CV & promote career longevity.
Access to hundreds of employers on the fastest growing Apprentice Jobs List in the equestrian industry
Employers committed to providing high-quality training
Opportunity to develop high-quality industry-standard skills
The right Apprenticeship for you!
Find out more about Educ8 Equine and the Apprenticeship Training they provide here.
Browse our Apprentice Directory for candidates currently looking for Apprentice vacancies here.